How it works
1. Brief

Let us know your gifting requirements: Who are these gifts for? How many recipients? What's your budget? Any unusual requests? We're all ears!

2. Proposal

Receive a proposal with a specially curated box tailored to your requests and requirements. Approve immediately, or get back to us with your comments.

3. Personalise

We know how to create a gift that stands out from the crowd. Our designers can include your brand and message in the packaging, along with any other special ideas you have in mind!

4. Gift

Feel the joy of giving a gift that will be loved and remembered by your recipients. Not just for aesthetics but to genuinely be enjoyed!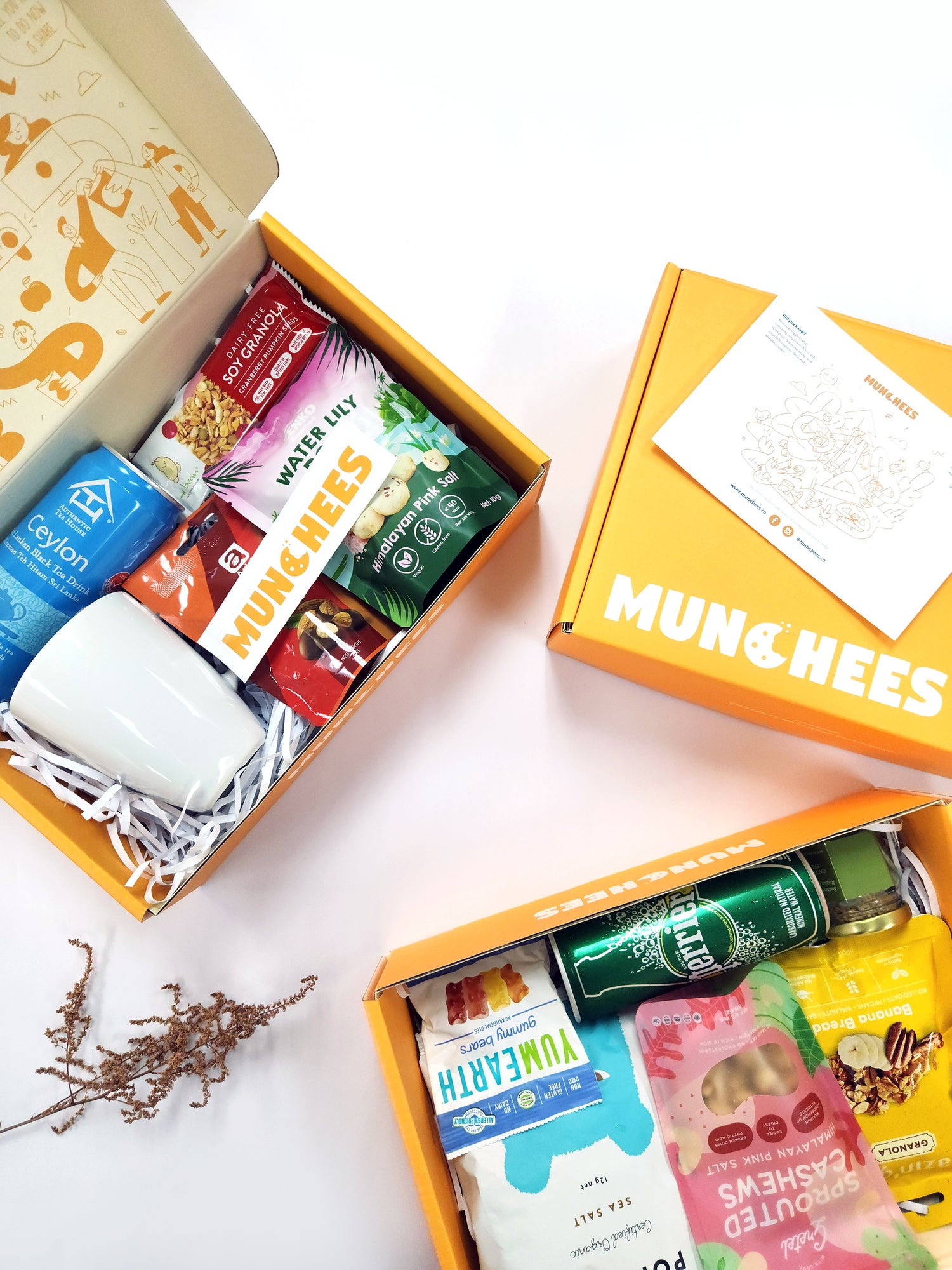 Appreciation Care Packs & Snack Boxes
Show your team you care by providing them with a quick energy boost, helping them to stay focused and productive throughout the day!
Get Started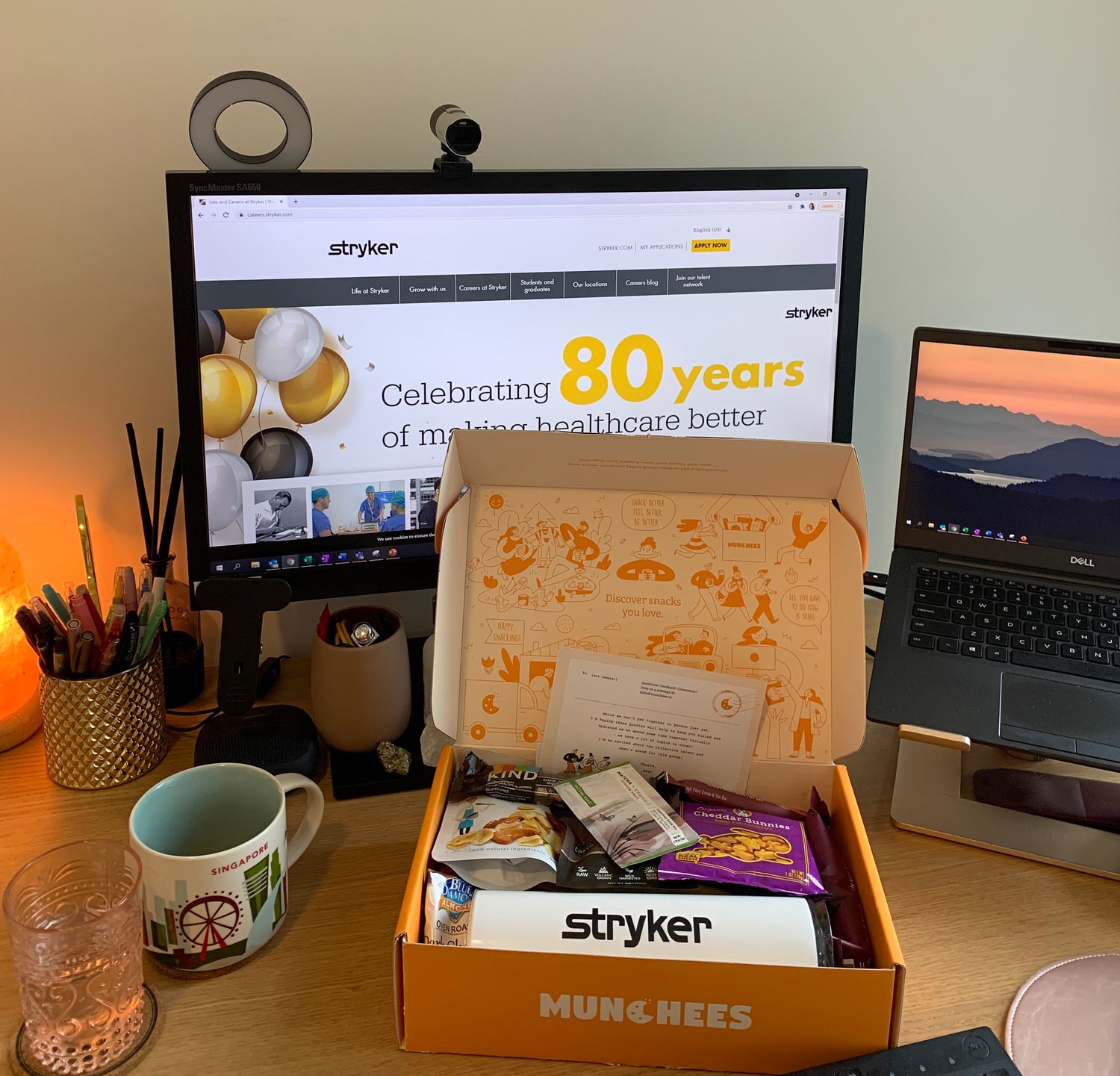 Virtual Events & Conferences
Break up the monotony of long virtual meetings and make it more enjoyable for your participants. Boost engagement and keep your attendees focused with some awesome snacks!
Get Started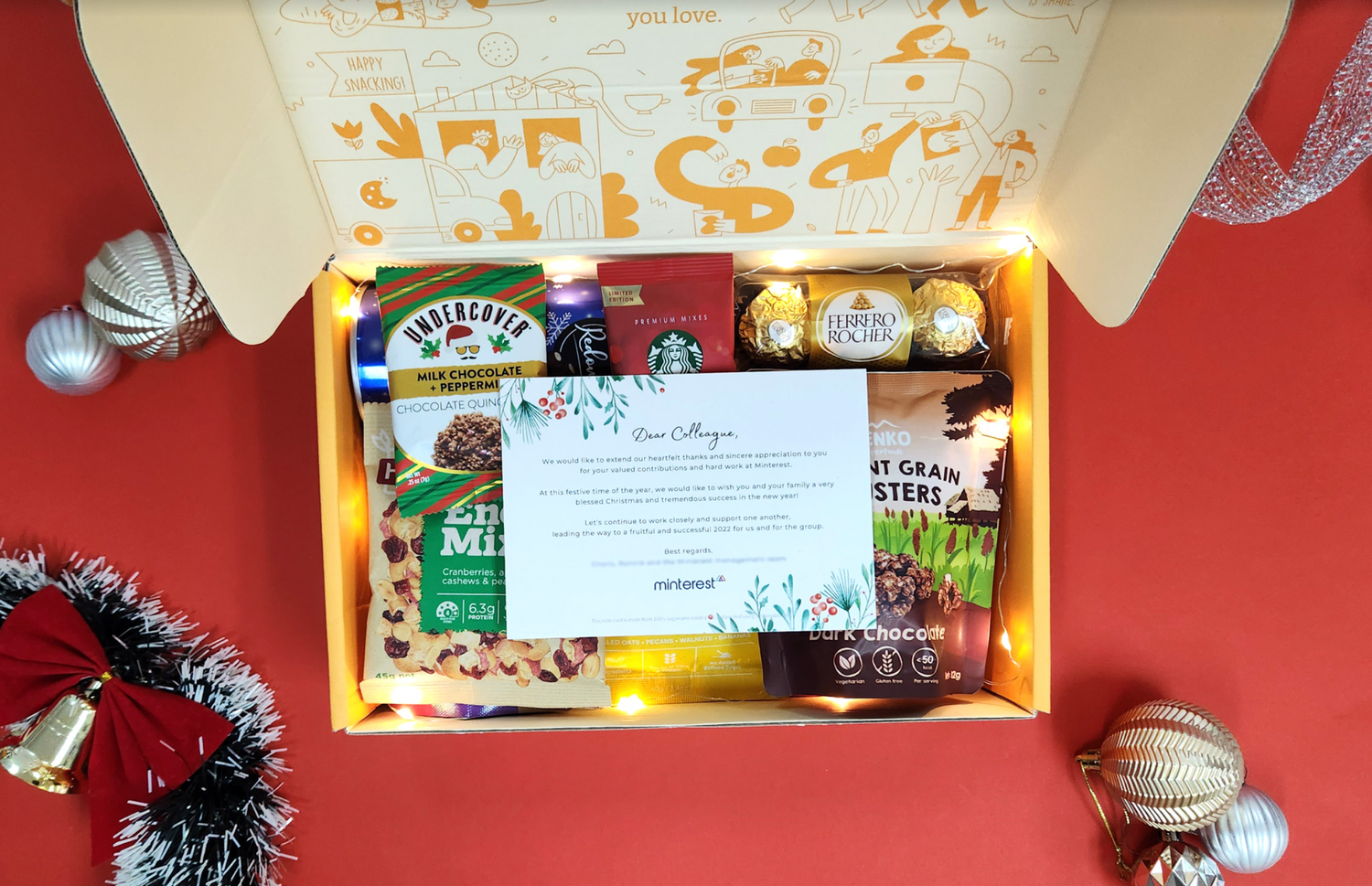 Events, Holidays & Anniversaries
Personalise your care pack with themed items to suit your event or initiative.
Speak to our snack concierge to craft the perfect gift for your team and clients.
Get Started
What we've done
Starbucks

Holiday gifting to all 154 Starbucks outlets island wide.

Parkway Hospitals Singapore

Well deserved appreciation packs for the Gleneagles nurse team.

OCBC Singapore

Welcome snack packs for interns starting their journey with OCBC.

LEGO

A wellness themed care pack specially curated for the LEGO APAC team during their annual Wellness Week.

Ernst & Young

A completely customised wellness pack delivered directly to employees at home.

Tech Data

Custom reusable cotton canvas snack pouches for a client appreciation event.

Tapestry

Weekly TGIF snack boxes for all 16 Kate Spade and COACH outlets island-wide.

Gibson, Dunn & Crutcher

Reusable Christmas themed snack pouches for a token of appreciation and best wishes.

Ubisoft

A specially curated gift pack to elevate the online experience of their yearly Ubisoft Forward virtual event.
...and more!
Find out how we can craft the perfect gift for your initiative.
Celebrate your team your way 🎉
Common Questions
Can I request for specific snack items?

Most definitely! While this is highly dependent on availability, we will do our best to fulfil your requests.
Can I request for non-snack items?

Yes! We can even do the sourcing for you if needed. Alternatively, you can have your items sent to us for packing.
Can I request for specific dietary requirements?

Absolutely! Be sure to indicate this in your brief and we will be sure to accomodate accordingly – You name it, we'll curate it.
What is your lead time for fulfillment/delivery?

This is highly dependent on the details of the order such as quantity, budget, customisations, delivery timeframe, etc.

We'll be able to provide you with a better idea once you've filled out the brief!
Is there a minimum budget per box?

Not entirely as this is highly dependent on the details of the order such as quantity and other requirements.

We'll be able to provide you with a better idea once you've filled out the brief!
What kind of customisations do you provide?

From custom designed notecards to sticker labels, box sleeves, mailer boxes and more!

Let your imagination go wild and we'll do our best to make it happen (:
What are the payment terms and methods?

Our preferred methods of payment are PayNow or bank transfer. We also accept e-invoicing via vendors@gov and GeBiz.

Our standard payment term is net 30 days. Let us know if you need flexibility on this!